Rebirth/Regeneration
Usually people, appropriately enough, write about rebirth in the spring. But restoration geeks sometimes think a bit backwards. Fall is the opposite of spring. We give damaged nature a helping hand by transplanting native plants into natural areas, and we do it in the fall to maximize survival rates. We have a fall planting event coming up in Madrona Woods on Sat Nov 28, from 10-1. Please join us.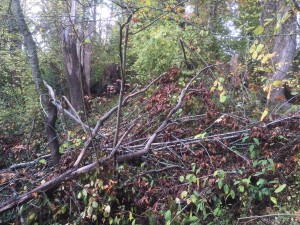 Another way to think about rebirth is: "out with the old, in with the new." The picture above shows recent large fallen branches from a 100 year old big leaf maple that is nearing the end of its lifespan.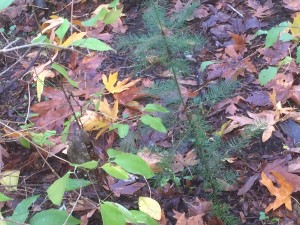 This picture shows one of dozens of new Douglas fir trees that are regenerating (growing from seed) in Madrona Woods. They're all in a relatively small spot where we cleared ivy in 2007. Their ancestor (150 ft tall or so) is nearby. In the last 10 years nearby trees and branches have fallen, creating a window of sunshine. This is a sign of a self-sustaining conifer forest, one of the primary goals in our project. When the deciduous, short lifespan maples and alders die, we want the long lifespan evergreen conifers to be able to succeed them and establish themselves as the biggest, baddest trees around.
Comments