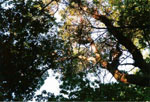 Friends of Madrona Woods is a group of Madrona residents who, in 1996, 'adopted' the Woods in cooperation with the Seattle Department of Parks and Recreation. The organization is open to all who are interested in restoration of this urban forest.
A few neighbors started the group when they became concerned about ivy they saw growing on the trees and smothering the forest floor. They soon realized removing it was not enough to restore the woods to a more natural and sustainable condition. Many grants and thousands of volunteer hours later, there is a comprehensive plan, the trail system has been rebuilt to increase safety and accessibility, invasive ivy, holly, laurel and blackberries have been removed and replaced with native plants throughout the 9-2 acres on the hillside, a water cascade and stream have been added, and local school children and adults have learned together about the nature of the forest and how to restore it (See Restoration History).
The largest project, the daylighting of Madrona Park Creek, was completed in 2009. It has brought the creek in the upper and lower Madrona Park ravines to the surface to flow together to a pool near Lake Washington Boulevard. From there, the combined flow is piped under Lake Washington Boulevard through Madrona Park to a new wetland cove at the Lake's shore. Volunteers are now mainly concentrating on maintenance.