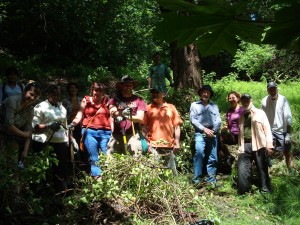 The UW is currently holding its fourth International Conference on Climate Change. Thanks to Friends of the Cedar River Watershed, 15 people at the conference volunteered to work in Madrona Woods. Blessed by beautiful sunny weather and inspired by the sight of two eagles perched atop a douglas fir in the morning, we had a very pleasant day.
See all the pictures here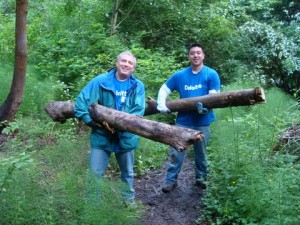 A big thank you to the helpful folks from several local offices of Deloitte. They did a huge amount of volunteer work for us last Friday. Their tasks included clearing ivy, hauling wood for composting platforms, and digging out large holly trees. It was a very successful day and puts us well on our way toward our goal of restoring the final 1.5 acres in Madrona Woods.
We've received three of the grants we applied for, and this will allow us to move forward with clearing, planting, and maintenance in the last piece of the restoration of the entire Madrona Woods—the 1.5 acres in the southeast corner. King County has awarded Friends of Madrona Woods $10,000 through its Wild Places in City Spaces program, the Washington Native plant Society will contribute $500 for plants, and A Department of Neighborhoods Small and Simple grant will kick in $19,440.
A new partnership with Friends of the Cedar River Watershed is another key factor that makes it possible to tackle this last remaining section. Our first joint work party will take place on Friday, June 8th from 9:00 to 3:30 (or any part of this) with employees from Deloitte Consulting LLP. A presentation on the connections of Madrona Woods to the Cedar River salmon migrations will also be provided. As City of Seattle residents we rely on the Cedar River for our clean drinking water, to keep our Lake Washington floating bridges afloat, and to operate the Ballard Chittenden locks. Cedar River salmon also rely on migrating through this watershed. Anyone interested in joining in is encouraged to email nisa@cedarriver.org to register.
We'll be having a big planting push in the fall, and we hope to gather lots of laborers on Green Seattle Day November 3 to give us a boost. Put it on your calendar so you can start adding up your hours for volunteer match on grants.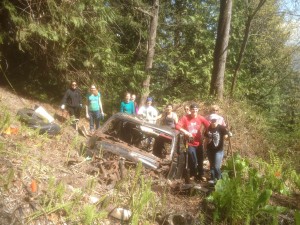 On a beautiful Saturday 11 energetic volunteers from Seattle Works helped us clear 2,000 sq ft of HUGE blackberry bushes near the car. We hauled mulch up the steps to cover a couple of hundred sq ft as well. Thank you very much – you were a great group!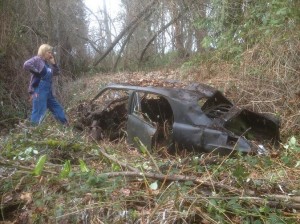 We had a rare nice day, so Robbie and I went to check out the car, which is in our proposed SE Woods project area. The car is a 1940s era Ford. It has been in the Woods for a very long time – see how it is kind of buried? It had been covered by blackberries in recent years. We ran into Penelope and her son Julian, who were exploring the Woods. We all worked together to clip away for a couple of hours, and the car is visible again. The car is in a pretty soggy place; note the skunk cabbage in the foreground. Check out the gallery for more pictures. Look west from the lower part of the stairway to heaven to see the car.
Most Madrona residents haven't YET enjoyed a work party in Madrona Woods. Here's a sketch of what goes into making a work party happen and what to expect WHEN you join in the fun.
When you arrive at the tool box near the Spring Street entrance at 10:00 a.m. on the fourth Saturday of the month, you'll find clean gloves (washed by elves?) and tools appropriate for the day's work laid out. Some of these have been taken out of that toolbox, and others have been brought from other tool boxes or people's homes. Deirdre McCrary and Peter Mason have recently been responsible for gathering everything as well as for selecting and setting up work sites. The latter usually involves building platforms out of scavenged branches on which to stack removed invasives, which otherwise might root if placed on the earth. It is current Parks Department policy to mulch what is removed on site.
Sometimes there will be hot coffee for participants, especially if an outside group will be adding its muscle. It has to be brought that morning from Starbucks. There may also be hand-baked goodies brought by Deirdre or our other refreshments provider Tom Kushner. If mulching is involved in the day's projects, Deirdre or Peter will have arranged with the Parks Department to deliver wood chip mulch at a designated spot and will have lined up lots of buckets and wheelbarrows.
Most often this winter and spring, the work sites will be in the southeast corner of the Woods, the last area slated for restoration. Likely tasks will include pulling out ivy and small holly and laurel trees by the roots, digging up larger holly and laurel and entrenched blackberry plants, and mulching with cardboard (collected ahead of time from a cooperative BMW dealer) and wood chips. There will likely be some planting in March. At our last work party we removed and piled invasives on platforms under lovely old cedars and were delighted to uncover a few native survivors like Oregon grape, salal, and sword ferns. We talked and laughed and used muscles we knew would complain the next day, though virtuous pain is somehow easier to take than other kinds. Less vigorous tasks are always available. The scenery and the company really can't be beat.
The Seattle Parks Foundation is FOMW's fiscal sponsor for our SE Woods restoration project. To make a tax-deductible gift to this project online, click here, and select Madrona Woods from the donation designation drop down list halfway down the page. If you want to give by check, designate Madrona Woods in the memo line and mail the check to:
Seattle Parks Foundation
105 South Main St #235
Seattle, WA 98104
We are putting together grant proposals for a project to restore the final unrestored 1.5 acre SE corner of Madrona Woods. We also plan to add a kiosk and some interpretive signs. As part of applying for a Department of Neighborhoods grant, we need pledges of volunteer hours from community members. Anyone who is willing to pledge time to do any of the following:
Restoration work: clearing and planting
Fundraising
Social media (Facebook??)
Work party food
Sign design
Plant selection
Ideas for what to do with the car when we uncover it.
Please contact Peter Mason at 388-6490, peterma5 at msn dot com.
There will be more details here about this project as it proceeds.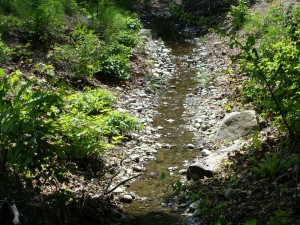 Those of us who have invested so much in the Madrona Woods restoration are getting a grand payoff now as we watch nature take over where we've provided openings in the woods, the ravine, and the natural area. The plants we put in are growing and creating lush landscapes and habitat. Madrona Park Creek is flowing through the scenic ponds and into the lake, giving us its lovely sound and providing nutrients for migrating salmon fingerlings. And we thrill to the wonderful self-regeneration of native plants happening in some parts of the woods that have been cleared of invasives: thimbleberry in the meadow, bunches of trilliums popping up in unexpected places in early spring, and swaths of Oregon grape and salal filling in all over.
We hope many of you are enjoying the beauty and growing diversity with us. Put a walk through the woods or cove on your summer agenda. Let me know if you'd like a guide to help you identify plants and to discover where to look for particular favorites. Or go to the native plant Gallery, to find pictures of native plants in the different seasons.
Our planters par excellence over the past few months have been Ann, Deirdre, and Peter. Deirdre and Peter have tackled the steep slopes which are hard for many to access. Deirdre has planted around 1,500 natives, and Peter has planted around 500, many of which he propagated himself. Many thanks to them for their dedication and hard work. Since these plants will need to be watered over the dry summer months, we'll be suspending our regular monthly work parties so our more goat-footed volunteers can put their effort there whenever it's timely.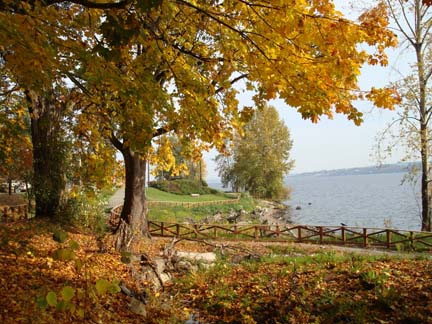 A spring-fed stream now flows from the steep ravine above Madrona Woods, under 38th Avenue in a pipe, through the Woods in the ravine along Spring Street, under Lake Washington Boulevard, through Madrona Park's restored natural area and into Lake Washington at a newly created wetland cove. Salmon are likely to find Madrona Park Creek too small for spawning, but their young can rest under sheltering shrubs in the quiet cove or several small pools and feed on the nutrients brought down by the stream before continuing on their way up Lake Washington and out to the Sound in May and June.