Last Thursday, Dec 11, we had a very big wind storm. The two big casualties in Madrona Woods were pacific madrones, aka arbutus menziesii. These are the "naming trees" for both our park and our neighborhood. Arbutus menziesii is a very distinctive Pacific Northwest native tree, found in coastal areas like the Magnolia bluffs, or anywhere in the San Juan islands. It is the only broadleaf evergreen tree native to the Pacific Northwest. We have only a few left in Madrona Woods, so losing two is quite a blow. Fortunately, some natural regeneration of madrones is taking place in the woods, thanks to all the clearing work we have done.
The larger of the two fell without completely being uprooted, and was left suspended over the trail. I was reluctant to chop this tree up, because it could have survived as it was. But safe and welcoming trails are a priority for us, so this tree had to go.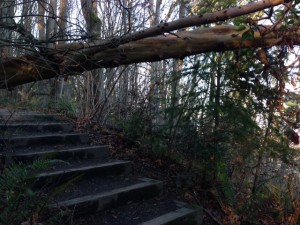 The smaller tree was less healthy, and was completely uprooted by the wind. Its position on the ground made it a bit more difficult to saw, due to "binding."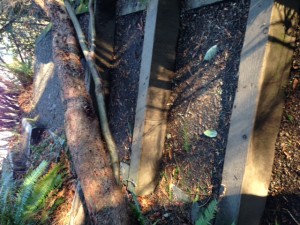 The two madrones (18 inch diameter) fell across the top of the stairway in the woods. I set out this afternoon with a small bow saw, an axe, and a sledge. 4 hours later the trail was completely cleared. I was aided only by gravity. Gravity has often been my undoing, so it was nice to have its help.
In the course of my pleasant labor on a beautiful day, with a beautiful view, I met:
A father and very young daughter. She was dressed as batgirl, complete with mask. They had already climbed the stairs (100 vertical ft). She climbed over the tree (not yet removed from the trail) quite cheerfully.
An out of town visitor who was very happy to find a 10 acre well-maintained greenspace in the middle of urban Seattle.
Another hiker who cheerfully offered to help me. This was early in the 4 hours – I might have taken him up on his offer during the last hour!
A couple of dog walkers who controlled their dogs, who also hopped gracefully over the logs. Thanks to all dog owners who do the right thing.
There has been a lot of vandalism in Madrona Woods in the last 3 years. See our ongoing summary.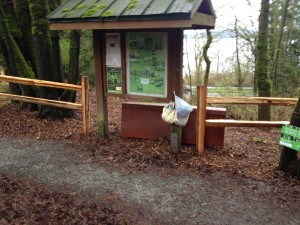 The last few days have shown us that Spring can come. Amid news of a Crystal Mountain ski lift getting wiped out by an avalanche, it's nice to see Madrona Woods reliably regenerating itself: osoberry, red-flowering currant, and trillium are as usual the early season providers of hope, color, scent, and proof of life.
But what's new? We have a fence at the Grand/Spring entrance. This fence was installed by the Seattle Parks Department's Natural Areas Crew. It is intended to support restoration of an area where a large amount of native vegetation was removed, by a person or persons unknown. The Parks Crew built the fence, planted new native vegetation, and mulched the area. Thanks to Lisa Ciecko and Mark Mead at Parks/Green Seattle Partnership for making this happen so well and so quickly!
If you walk by this entrance, please check out the fence, and please keep an eye out for persons removing vegetation. Any Madrona Woods volunteer (even if working solo) will always be happy to talk to you and explain what they are doing. Feedback about the fence may be sent to me, petermason065@gmail.com.
Madrona Woods offers an ever-changing display for us to enjoy. During this Earth Day month, we can all take pleasure in the last of the early-blooming skunk cabbage and Indian plum, and in the salmonberry, thimbleberry, fringe-cup and trillium. We can admire the new plants that have been put into the final area of our active restoration in the south end of the park and be thankful for the hard-working volunteers who have put more than 3000 there this fall, winter, and spring.
The entire restoration has been, and continues to be, an ongoing venue for learning and discoveries. Even after the last plants are put in this spring, there will be a need for continuing maintenance and, of course, sources of money to help deal with the expected and unexpected. Many of us in Friends of Madrona Woods (we hope with continuing community support) will stick around to watch the results of our 16 years of labor become more and more beautiful as they mature.
An example of how the Woods is always creating new challenges is Madrona Creek. Volunteers have spent two work parties repairing a section that was disappearing into a large sink hole just east of the Spring Street bridge. They filled the hole and diverted the creek for a month while a new channel set up. Then they put gravel and rocks of several sizes in the new streambed and released the creek. As of this writing, the water was going above ground on both sides of the park's first small island. Admire it from the bridge.
We've planted nearly 1,000 trees and shrubs so far this season. Only 2,000 or so to go! Green Seattle Day on Nov 3 was a great kickoff to the fall planting season. The next Saturday an excellent Seattle Works group came, ate lunch, and planted 350 trees and shrubs. Many thanks to all volunteers and to our partners at Friends of Cedar River Watershed.
Friends of Madrona Woods will be selling living holiday trees this December to raise funds for long-term maintenance and also to provide more trees for ongoing restoration. After the holidays you can either plant the tree you've purchased at home or donate it for planting in Madrona Woods. You can plant it with us or we'll plant it for you.
We'll have grand firs in 5-gallon pots for $30 and in 7-gallon pots for $45, and this includes delivery December 1 or later. Trees can be decorated and displayed indoors or out, though keeping them indoors for more than two weeks is not recommended. Sample trees will be on display at the Halloween party and other neighborhood events. Contact Peter Mason, if you don't see him there, at 388-6490 or peterma5@msn.com to order and arrange for delivery. Care instructions will be provided with each tree.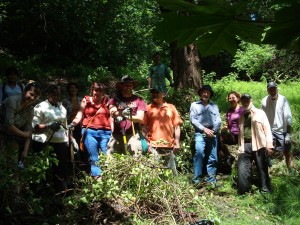 The UW is currently holding its fourth International Conference on Climate Change. Thanks to Friends of the Cedar River Watershed, 15 people at the conference volunteered to work in Madrona Woods. Blessed by beautiful sunny weather and inspired by the sight of two eagles perched atop a douglas fir in the morning, we had a very pleasant day.
See all the pictures here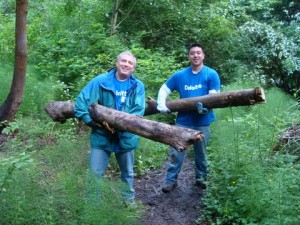 A big thank you to the helpful folks from several local offices of Deloitte. They did a huge amount of volunteer work for us last Friday. Their tasks included clearing ivy, hauling wood for composting platforms, and digging out large holly trees. It was a very successful day and puts us well on our way toward our goal of restoring the final 1.5 acres in Madrona Woods.