Madrona Woods is a community resource for adults and children to learn about the beauty and interconnectedness of all life in nature. We hope to educate our neighbors and Woods visitors so they will help protect the city's remaining urban green spaces like Madrona Woods. Involvement in the Woods restoration gives participants one way to learn the skills needed to protect and restore such places. Every work party and meeting offers new chances to learn about native plants and what is needed to restore the Woods to a more natural and sustainable condition.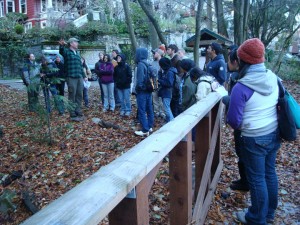 Two series of naturalist-led community walks, in 1997 and 2000, gave families the opportunity to learn about the plants and wildlife in Madrona Woods. Our landscape architect, Peg Gaynor, has been a mighty educator. She has taken us through the process of drawing up a Master Action Plan for approval by the community and the Seattle Department of Parks and Recreation.
Between 1998 and 2005, students from St. Therese sixth grade came approximately every other week throughout the school year to help with the restoration as part of their environmental education program. Fifth grade students from Epiphany School also came for most of those years.
The classes were divided in September into groups of three or four. Each was assigned a plot to work in until June with one or two Madrona Woods volunteers to guide and learn with them. They tested and recorded soil conditions, light and water; removed invasives and ordered native plants; and then they planted and mulched. They learned to observe and identify plants and to understand the restoration process. They also played games designed to help them understand the forest ecology.
The St. Therese sixth grade returned for the 2005-06 year with a slightly different format, concentrating on restoration work in the fall and early winter. Madrona K-8 sixth graders visited the Woods four times during that school year to learn about restoration and ethnobotany. The Seattle Girls School included a five week community service project in Madrona Woods as part of its fall and winter internship programs in 2005 , and cleared and planted weekly in 2006.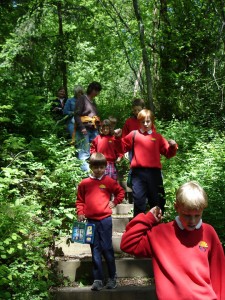 The more formal environmental education program was discontinued when Friends of Madrona Woods began intense work on the stream daylighting, but some student groups came for more limited projects. In 2009-10, a Capstone group came from the University of Washington to work with us along the steep banks of Lake Washington Boulevard, and two students from Garfield and Nathan Hale high schools came once a month that same school year to clear and revegetate the area north of the sidewalk between Spring Street and Lake Washington Boulevard. The UW Restoration Ecology class has held a field trip in Madrona Woods to view the restoration for three years.