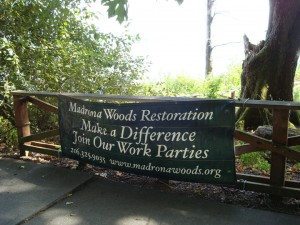 Restoration in an urban forest is never done. All of the 11 acres of Madrona Woods have been cleared and revegetated, but maintenance is a continuing necessity. The invasive ivy, holly, laurel, blackberries, and clematis often take more than one treatment to eradicate from an area. The smaller shoots are easier to remove, but only if they're caught relatively early. Places where plants have died or original planting was too scanty need to have additional plants. Some areas need new applications of mulch to discourage the major invasives and others that have taken advantage of more light—like buttercups, morning glories, nightshade, yellow archangel, and herb robert. So some work parties need to focus on this kind of ongoing maintenance. We also spread a lot of mulch as you see below.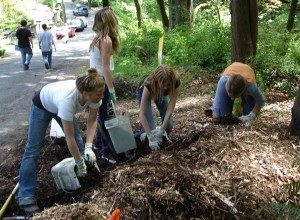 Mulching with wood chips provides the following benefits:
– moisture retention during dry summers
– erosion control
– weed regrowth suppression
– soil enhancement
The creek daylighting project added two additional parcels to Friends of Madrona Woods stewardship. Madrona Park Ravine, the source of most of the stream, is slightly less than an acre on the steep slope between 38th and 37th west of the main woods (an Open Space addition to Madrona Park in 2002). The Madrona Park Natural Area, about 2/3 acre of former lawn, now a new wetland cove at the lake shore with a stream running into it through a gently rolling area revegetated with thousands of native plants. For a map, click here.
The Ravine offers a special challenge in its steep and wet terrain, and restoration there has involved placing numerous staked-log terraces to make access easier for spring planting. An invasive plant there mostly not found in the Woods is Japanese knotweed. The Natural Area also offers a new invasive plant to deal with on top of lots of blackberry and morning glory—reed canary grass. We have been able to hire some help and enlist volunteers to help with the clearing of both the knotweed and reed canary grass, which will be ongoing.
Monitoring is another aspect of ongoing restoration. Seattle Urban Nature set up 14 formal plots in the natural area and nearby woods in 2007, and volunteers monitored the plant success in them for three years. In recent years the Green Seattle Partnership established and is monitoring two plots in our 2012 restoration site, the south part of Madrona Woods, near the entrance at the 39th Avenue dead end.
The other big maintenance tasks are maintaining the trails, and maintaining our streams.
See also a detailed list of tasks for 2016 and beyond.