After native peoples had been driven out in the 19th century, developers clear cut the area and built a hotel, dance hall and other amenities in the early 1900s to bring visitors from downtown Seattle on the trolley (see Madrona Woods History). By the 1930s the buildings had been removed and the park was no longer maintained by the city, which by then owned it.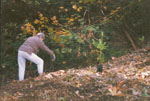 Until the mid-1990's the Madrona Woods was used by several generations in the neighborhood, though it was increasingly overgrown with ivy, holly and blackberries and the trails were hazardous. Nevertheless, it was a place of mystery and exploration for children and a place of calm and natural beauty for walkers (with or without dogs).
In 1996, a group of neighbors decided to remove the ivy they saw growing on the trees. They soon realized they needed to learn more about restoration and develop a plan if they were going to be effective.
A "Small and Simple" Department of Neighborhoods grant in 1996-97 got things rolling. Four walks led by naturalists initiated an educational component to the work. Portico landscape architects encouraged community involvement and posed the questions needed to develop a plan. The priorities that emerged from the process under this grant included: improving the trail system to offer the best viewing and protection for habitat; restoration of stream beds; rehabilitation of the Woods as a natural area using native plants; and using the Woods as a backdrop for local schools' environmental education programs.
With a commitment to these priorities and with the generous backing of the Starflower Foundation, Friends of Madrona Woods hired a landscape architect to offer much-needed expertise and help draw up plans for how to proceed.  In 1998, after interviewing several candidates, Peggy Gaynor of  Gaynor, Inc was hired.  She has became an invaluable team member. Not only did she share her wealth of knowledge about restoration, but she helped set up experimental plots to test different methods for revegetating with native plants.
A much larger Department of Neighborhoods matching grant in 2000 funded the creation of a Master Action Plan, (see Master Action Plan document and drawing), and major trail restoration work. The match for the grant was provided by nearly 2500 hours of volunteer labor by community members and school children from St. Therese and Epiphany schools. They cleared invasives to make way for trails and revegetated with native plants.
Many portions of the old main trail needed substantial repair. There were places with significant erosion problems and one area so steep it was an imminent hazard. Trail erosion was eliminated by relocating the trail away from the lip and revegetating the old trail bed. A new main trail down to Lake Washington Boulevard required hundreds of hours of volunteer labor to clear out blackberries, holly and ivy and revegetate after construction. Friends of Madrona Woods contracted with EarthCorps to do the actual construction of the trail, which included 86 steps, two landings and a bridge.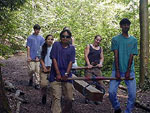 EarthCorps is a local program whose mission is to foster environmental responsibility and global cooperation among young people of the world. Half of the Corps members come from King County, while the other half are recruited from around the world. They combine the best elements of the 1930's Civilian Conservation Corps with those of the Peace Corps. Participants learn resource management skills by completing restoration projects throughout King County. This work has included restoring stream banks and salmon habitat, reclaiming logging roads, and building trails. They completed 30,000 hours of work in 1999 alone.
In the process of clearing the wetland hillside, volunteers found substantial erosion, leading to a special allocation of $30,000 from the Parks Neighborhood Response Fund to stabilize it with a water cascade created with earthwork and boulders.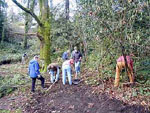 Neighbors did a little trail-building of their own in February of 2000 when Volunteers for Outdoor Washington conducted an all-day trail building workshop in Madrona Woods.  As part of this workshop a new trail segment was built in the Devil's Ditch area. The work included grubbing out and surfacing 150 feet of new trail and relocating a section of a Douglas Fir which had fallen years earlier.
The 2000 grant also supported ongoing re-vegetation with native plants (see Ongoing Restoration) and a program for local school children who learned about restoration by working with Woods volunteers throughout the year from 1998 to 2007 (See Environmental Education). The Master Action Plan was the basis for the Madrona Park Creek daylighting, which was completed in 2009 after three years in process. (See Project – Daylighting). The southeast edge of Madrona Woods was cleared and replanted in 2012 and 2013, completing the first phase of the overall restoration. The maintenance phase will continue for years.
The combination of city and private funds and many hours of work by dedicated volunteers has transformed the Woods into the inviting work in progress you see today.
Come and visit and see for yourself.