Last Tuesday we hosted 6 energetic UW students who helped us break down the huge piles of wood and composting vegetation near the 39th Ave dead end. This was hard work and some heavy lifting. Good thing it was a nice day and a positive group of volunteers.
The standard best management practice for forest stewards is to let these piles break down on their own. Here's some reasons why we went to the trouble of reducing them:
– the piles are very near the 39th street dead end, so they're almost in the front yard of an adjacent house
– the piles encourage people to throw trash
– the piles are magnets for woody debris, so the piles keep growing,
– the piles don't degrade naturally like the other piles we build in the interior of Madrona Woods.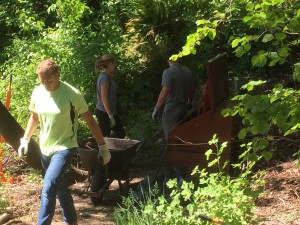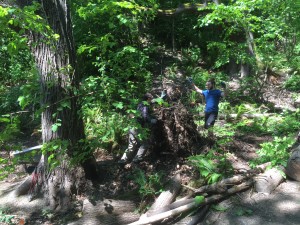 We've planted nearly 1,000 trees and shrubs so far this season. Only 2,000 or so to go! Green Seattle Day on Nov 3 was a great kickoff to the fall planting season. The next Saturday an excellent Seattle Works group came, ate lunch, and planted 350 trees and shrubs. Many thanks to all volunteers and to our partners at Friends of Cedar River Watershed.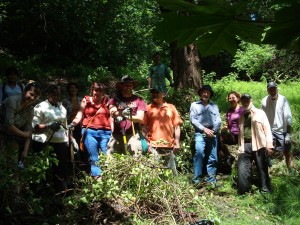 The UW is currently holding its fourth International Conference on Climate Change. Thanks to Friends of the Cedar River Watershed, 15 people at the conference volunteered to work in Madrona Woods. Blessed by beautiful sunny weather and inspired by the sight of two eagles perched atop a douglas fir in the morning, we had a very pleasant day.
See all the pictures here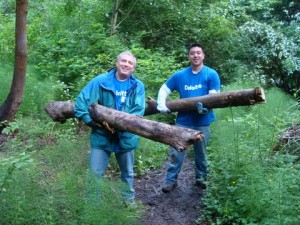 A big thank you to the helpful folks from several local offices of Deloitte. They did a huge amount of volunteer work for us last Friday. Their tasks included clearing ivy, hauling wood for composting platforms, and digging out large holly trees. It was a very successful day and puts us well on our way toward our goal of restoring the final 1.5 acres in Madrona Woods.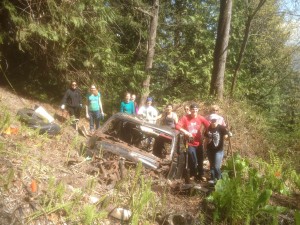 On a beautiful Saturday 11 energetic volunteers from Seattle Works helped us clear 2,000 sq ft of HUGE blackberry bushes near the car. We hauled mulch up the steps to cover a couple of hundred sq ft as well. Thank you very much – you were a great group!
Most Madrona residents haven't YET enjoyed a work party in Madrona Woods. Here's a sketch of what goes into making a work party happen and what to expect WHEN you join in the fun.
When you arrive at the tool box near the Spring Street entrance at 10:00 a.m. on the fourth Saturday of the month, you'll find clean gloves (washed by elves?) and tools appropriate for the day's work laid out. Some of these have been taken out of that toolbox, and others have been brought from other tool boxes or people's homes. Deirdre McCrary and Peter Mason have recently been responsible for gathering everything as well as for selecting and setting up work sites. The latter usually involves building platforms out of scavenged branches on which to stack removed invasives, which otherwise might root if placed on the earth. It is current Parks Department policy to mulch what is removed on site.
Sometimes there will be hot coffee for participants, especially if an outside group will be adding its muscle. It has to be brought that morning from Starbucks. There may also be hand-baked goodies brought by Deirdre or our other refreshments provider Tom Kushner. If mulching is involved in the day's projects, Deirdre or Peter will have arranged with the Parks Department to deliver wood chip mulch at a designated spot and will have lined up lots of buckets and wheelbarrows.
Most often this winter and spring, the work sites will be in the southeast corner of the Woods, the last area slated for restoration. Likely tasks will include pulling out ivy and small holly and laurel trees by the roots, digging up larger holly and laurel and entrenched blackberry plants, and mulching with cardboard (collected ahead of time from a cooperative BMW dealer) and wood chips. There will likely be some planting in March. At our last work party we removed and piled invasives on platforms under lovely old cedars and were delighted to uncover a few native survivors like Oregon grape, salal, and sword ferns. We talked and laughed and used muscles we knew would complain the next day, though virtuous pain is somehow easier to take than other kinds. Less vigorous tasks are always available. The scenery and the company really can't be beat.